While Supplies Last - Order Soon!
Free $39.99 Retail Value Book
Included with the order of all New Slowstar and Green Star Juicers
from DiscountJuicers.com


Live Food, Live Bodies by Jay & Linda Kordich. Jay was was known as the Juiceman in the 1990s. He got John, the owner of discountjuicers juicing and eating healthy back in the mid 90's.

In this 200+ page book, you will learn how to start juicing with a 3 day juice detox cleanse, the Juiceman's Favorite Juice recipes, and over a dozen other juice recipes along with almost 100 healthy recipes so you can eat more plant based foods and so much more.

This is the guide book you need to make healthy lifestyle changes you deserve in 2021 and beyond.


Tribest Slowstar Vertical Slow Juicer and Homogenizer is a quiet single auger juicer that slowly and easily juices your favorite fruits and vegetables from apples and oranges to carrots and leafy greens. The Slowstar has a low speed of 47 RPM with a 200 Watt motor and 3 reduction gears resulting in the equivalent amount of torque as a 9 HP motor. The Slowstar creates more than twice the power compared to similar slow juicers that run at 80 RPM with a 150 Watt motor, which produces the torque of a 4 HP motor. The low 47 RPM ensures that you will not lose the freshness, quality, and enzymes in your juice due to friction and heat.


The Double-Edged Duoblade Auger makes it possible for Slow-star to rapidly cut and juice your produce at a low speed for higher yields and reduction of pulp in the juice.


*NEW* Spout Cap prevents dripping on your counter with the included spout cap. The spout cap will also allow you to mix small quanities of juice inside the bowl of the juicer before it is released into the collection cup. DiscountJuicers.com is the FIRST retailer to offer you the NEWEST version of the Slowstar juicer with all current upgrades including the Spout Cap. Other retailers may not have the model with the spout cap for several weeks.


2-in-1 Machine with Juicing and Homogenizing Attachment
Not only can you juice your fruits, vegetables and leafy greens with the Slowstar, but you can also homogenize and mince your ingredients to be used for any of your favorite recipes.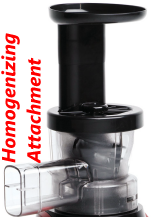 Homogenizing Attachment is INCLUDED with the Slowstar Juicer.
Just simply replace the top of the machine with the Homogenizing and Mincing attachment to turn the Slowstar into a multi-purpose tool that allows you to create your favorite recipes like sorbets, nut butters, pates, salsa, sauces and more! Whether you are juicing your favorite fruits and vegetables or using the Homogenizing Attachment to make sauces or sorbets, the Slowstar is the perfect solution to allow you to include more healthy fruits and vegetables into your diet.


The Power of the Duoblade
Unlike other slow juicers out on the market, the Slowstar has a double-edged Duoblade auger that creates a double-cut for less jamming and less pulp in your juice. The Duoblade easily breaks down stringy, fibrous produce and leafy greens such as kale, celery, and wheatgrass. Having two edges allows the Duoblade auger to do twice as much work as a traditional auger, which means it only has to spin at 47 RPM to juice the same amount of produce per minute. The lower speed preserves more nutrients and produces juice with less foam, all while producing a greater juice yield.


3 Stage Reduction Gear Technology Our advanced 3 Stage Reduction Gear Technology
creates more than twice the torque force compared to all other slow juicers. With twice the torque, the Slowstar makes your crushing, mincing, and homogenizing jobs smooth and effortless.

Features:
Double-Edged Duoblade Ultem Auger
Low 47 RPMs - One of the Slowest
Includes Juicing and Homogenizing Attachments
Quiet Operation
Makes a less pulpy juice than similiar vertical juicers.
Includes 100% Stainless Steel Pulp Strainer for additional pulp elimination from your juice!
100% BPA Free Construction on the Housing and Casing
Virtually BPA free Ultem Auger & Screen
3 Stage Reduction Gears provides ~9 hp torque equivelent
Heavy Duty Juicing Screen is long lasting and prevents wear and tear
Innovative pulp wiping assembly reduces clogging due to pulp build up on the juicing screen
A convenient hand grip makes Fruitstar easier to use and move around
Safety Switch ensures that unit is only operational when properly assembled
Full 10 Year Warranty
Specifications:
Silver and Black
cETL Approved
Low 47 RPMS
Made in Korea
200 Watt Motor 120V 60Hz 2A
7.25" W x 8.25" D x 18" H
22 pound shipping weight
Accessories included:
SlowStar Motor Base
Juicing Bowl with spout cap
Juicing Screw (Auger)
Wiping Blade
Juicing Screen with Small Holes
Lid with Feed Tube and Funnel
Tamper
BPA Free juice cup
BPA Free pulp container
Specially designed cleaning brush
Homogenizing Attachment
100% Stainless Steel strainer
Instruction manual and warranty card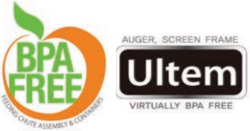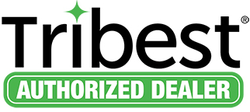 DiscountJuicers.com is an Authorized Dealer for all Tribest products. Tribest products purchased from an authorized retailer includes FULL warranty protection (10 Years on the Slowstar). Purchases from a non-authorized retailer may NOT be eligible for warranty protection. Be sure to purchase from a known Authorized Retailer to ensure your warranty protection benefit.