The World's First Commercial Grade NSF Certified Cold Press Juicer!
The Kuvings Whole Slow Juicer Master Chef CS700 is a commercial grade cold press juicer with a 3.5 inch diameter feed chute to make juicing faster and more convenient. This cold-press juicer runs at 60 revolutions per minute to gently extract vitamins, minerals and phytochemicals from fresh fruits and vegetables.
The all-new master chef CS-700 juicer motor can be used for up to 24 hours straight as it has a heavy-duty industrial grade motor. Home juicers normally have a 30 minute duty cycle, so this is 48x longer!
While the Kuvings Whole Slow Juicer Master Chef is a commercial grade juicer, is NSF CERTIFIED. Many health departments around the country will require NSF certified appliances for you to be able to use this juicer legally in a commercial establishment.
Here are the features that set the Kuvings Whole Slow Juicer Master Chef apart from the competition:
Durable Stainless Steel Body & Drum
The 3.5" O-Shape Flip Gate (Widest feed chute)
Hygienic Stainless Steel juicing bowl
24 Hour Non-Stop Operation
Rotating Cleaning Brush for easier cleaning
Smart Cap to prevent leaks and combining juices
Safety-lock & Cooling System
Quiet Operation
The Highlights of the CS700 Chef include:
3.5 inch flip gate - wide feed chute
From the company that invented and patented the wide feed chute slow juicer, introduces their largest feed chute yet that saves time when feeding produce into the juicer.
Space Saving
The new slim design of the Kuvings Whole Slow Juicer master chef has a smaller footprint than other commercial juicers to save valuable counter space. The Translucent hopper allows you to see entire apples being juiced right in front of your eyes.
Fresh Juice
The patented J.M.C.S. (Juicer Module Comprising System) enables balanced extraction of fruit flesh and juice. By minimizing layering, fresher and richer juice can be produced.


Clean Up
After juicing, you can easily clean up trace residues in the juice strainer. Put the rotating cleaning brush and the juice strainer together and twist them against each other.


Convenient
The Smart Cap enables easy cleaning after continuous juicing and prevents leaking while pouring juice in a glass. Moreover, it helps more than two kinds of ingredients mix together for richer and various customized juices.


Powerful
World's Strongest Brushless Juicer Motor.. This industrial grade motor runs at a low speed which is able to process fibrous fruits and vegetables. The unit stays cool, quiet and stable thanks to the slow processing speed. It can be used for up to 24 hours straight.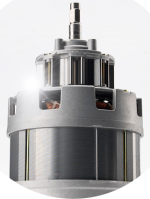 Quiet
Using its built-in low-noise design, with a slow-rotating, special deceleration motor, the product generates less noise and vibration than high speed juicers that can sound like an airplane taking off.


Includes Deluxe Recipe Book to help you to get healthy
The Kuvings Whole Slow Juicer Master Chef is the only cold press juicer that includes a deluxe full-color recipe flip book with dozens of juice recipes as well as other recipes you can make using the Kuvings Whole Slow Juicer Master Chef. It contains 120+ full color pages of bright pictures and recipes to help you get on the road to better health.



Upgraded Ultem screw for best juice extraction
Unlike many vertical juice screws, the deep hole at the bottom reduces pulp in the extraction and makes more juice. The new screw not only squeezes whole ingredients but discharges pulp in the drum smoothly in order to maximize yield.
Juicing Bowl makes cleaning easier.
The stainless steel bowl of Kuvings Master Chef Juicer offers easier cleaning and assembly. You donít need to separate silicone rings or deal with a silicone flap or plastic gear for cleaning anymore; it also prevents leaking.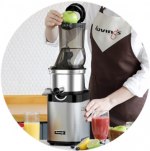 Safety
The product is made with safe and reliable materials; the extracting container with BPA-free Tritan, and the juice strainer and the screw with strong and safe Ultem.


Included Extra Topset
When you purchase the Kuvings CS700 from DiscountJuicers you will get an extra topset with your juicer purchase. The topset will include: the stainless steel bowl, auger & fine juicing screen and lid. This will allow you to continually juice by changing this topset every 20 minutes that will maximize yield and minimize clogging.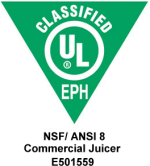 World's First NSF Whole Slow Juicer
This machine is certified to NSF standards for use in any commercial establishment such as a juice bar, restaurant, cafe or food production facility.

Specifications:
Silver Color
Cold Press Juicer
CE CB IEC UL NSF Approved
Low Speed 60 RPMs
200 Watt Motor 120 Volts 60 Hz
7.2" W x 10.25" D" x 20.25" H
Made from: Ultem, Tritan, ABS, PC and Stainless Steel
STS304 Stainless Steel
20 pounds (juicer weight)
33 pounds (shipping weight)
NSF CERTIFIED
1 Year Limited Warranty
Made in South Korea
Accessories included:
Kuvings CS-700 Motor Base
Stainless Steel Juicing Bowl
Smart Cap
Juicing Screw (Auger)
Juicing Screen with Small Holes
Juicing Screen with Coarse Holes
Lid with 3.5" Wide Feed Chute
Food Pusher
BPA Free Tritan juice cup
BPA Free Tritan pulp container
Over-sized cleaning brush
Spout Cleaning Brush
Special Screen Cleaning Tool
Instruction manual
Recipe Book 120+ Pages
BONUS: Extra Topset
Important Usage Guidelines:
Swap out the topset after 20 minutes or two quarts of juice (whichever occurs first)
Juice at a slow and steady rate
Rotate Feeding Different Types of Produce
Drop whole fruits such as apples and lemons into juicer. (Remove apple stems first)
Cut Celery and leafy greens into minimum 1" pieces (1/8" would be best) before juicing
Cut root vegetables that are more than 1" in diameter into no more than 1/2" diameter.
Remove pits of fruits like apricots, peaches, plums, mangoes, cherries, etc before juicing
Remove thick rinds such as pineapple, and do not juice pineapple rind or core.
John recommends this juicer for people looking to open a commercial juicer bar or other commercial establishment. This is the most cost-effective NSF certified juicer that will provide high quality cold pressed juice for you and your customers. Of all the commercial juicers, this is the juicer I would buy if I were opening a juice bar!