The Kuvings NJ-9500U Wide Moth Centrifugal Ejector juicer is the machine you need if you want to juice fast and are not concerned about the highest nutrient quality. The stylish look of the Kuvings Wide Mouth Juicer will look attractive in any kitchen, either home or business.

The Kuvings Wide Mouth Juicer is stylish, durable, dependable, efficient and easy to clean.
Durable - Designed for the home, but built for Commercial use, this unit is as beautiful as it is practical, with an all stainless steel blade, basket and bowl for heavy duty use.
Innovative - A new 3" Wide Mouth feed tube make preparation a breeze. What this means is that you spend less time cutting and more time juicing.
Powerful - The 1/2 Horsepower Motor runs at either 9,500 RPM(low) or 11,000 RPM (high) to easily extract the juice from fruits and vegetables.
The Kuvings Wide Mouth is capable of 30-50 cups of continuous juicing without cleaning. It can be easily disassembled in seconds for quick cleaning and reassembly. A durable cleaning brush is included to get the tough spots with ease.
Feed Chute: The chute of this juicer is the largest in the industry. It is large enough to juice whole apples (up to 3" in diameter).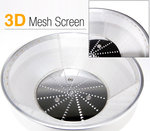 Blade and Basket assembly: This 1/2 lb. Stainless Steel Blade efficiently pulverizes fruits and vegetables to effectively extract the maximum amount of juice from a pulp ejector style juicer. This basket features a 3D mesh screen that has super-fine holes which means minimal pulp in your juice.
Clear Top: The top for this juicer has been painstakingly designed to achieve stylish looks while staying completely effective. This patented helical design reduces the chance of pulp from gathering in the chute and the juicer not clogging up. Most entry-level juicers will clog after processing just a couple of pounds of fruits and vegetables.
Latch Arms: The cantilever style Latch Arms were a first in the industry. This allows for easy assembly and disassembly. Whether you're a strong athlete or suffering from arthritis, these Latch Arms will make it very easy to use this juicer on a daily basis.
Bowl: The Bowl is manufactured from Surgical Stainless Steel. The outside of our bowl is polished to an attractive mirror like finish, the inside of the bowl is sandblasted to ensure a quick and easy clean up.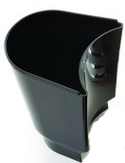 Receptacle Bin: This bin will hold pounds of pulp from your fruits and vegetables. A small, plastic refuse liner can be placed in the bin for easy clean up.
Surgical Stainless Steel: The metal parts are all comprised of Surgical Stainless Steel. All of the Stainless Steel parts are either polished or sandblasted for functionality and attractiveness.
Warranty: The Kuvings Wide Mouth Juicer has a 3 Year Warranty.
Kuvings Wide Mouth Features:
Pulp ejection for continuous juicing
Wide Mouth chute for less preparation
Easy to Use Design
Powerful 1/2 Horse Power motor
Energy Saving 350 Watt Motor
Safety Locking System
Stainless Steel Bowl and Basket
Easy to use, easy to clean
Less than 30 minute use cycle
Kuvings Wide Mouth Specifications:
Quiet 1/2 Horsepower motor
Two Speed -9500 / 11000 RPM
120 volts - 50/60hz - 350 Watts
3 Year Warranty
UL Listed
17" High x 8" wide x 14.5" Deep
Weight: 11 pounds (without box)